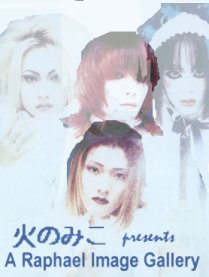 HI! Welcome to my Raphael Image Gallery! Please don't take any of these pictures!
We have spies everywhere......
They were scanned by: Inertia and edited by Hi no Miko

Anyways on to the piccies: (these are thumbnails, you know what to do!!!)
From LILAC era (1998):
The beautiful vocalist of Raphael,Yuki!
The femmy guitarist of Raphael, Kazuki!
The pretty bassist of Raphael, Yukito!
The adorable drummer of Raphael, Hiro!
Single Releases (1999) + Live:
| | |
| --- | --- |
| | Shoxx scans (1999) (smaller) |